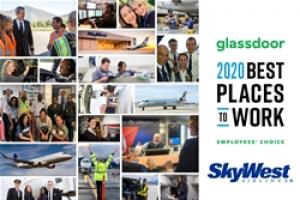 SkyWest Airlines has been named a Glassdoor Employees' Choice Award recipient, recognizing the Best Places to Work in 2020. The award, based solely on employee reviews, reflects the unmatched culture and team-based environment SkyWest's more than 14,000 employees enjoy.
"SkyWest's success can be directly connected to the incredibly talented group of people we have working here," said Chip Childs, President and CEO of SkyWest. "This award is a credit to each of them for the teamwork and passion they demonstrate in taking care of millions of passengers every month across the country."
SkyWest is the only regional airline included on the 2020 list, achieving an overall company score of 4.3 out of 5. SkyWest was recognized as one of Glassdoor's Best Places to Interview in 2017.
Glassdoor's Best Places to Work award is determined based on employee reviews regarding their satisfaction with the company, career opportunities, culture, senior management, and work/life balance.